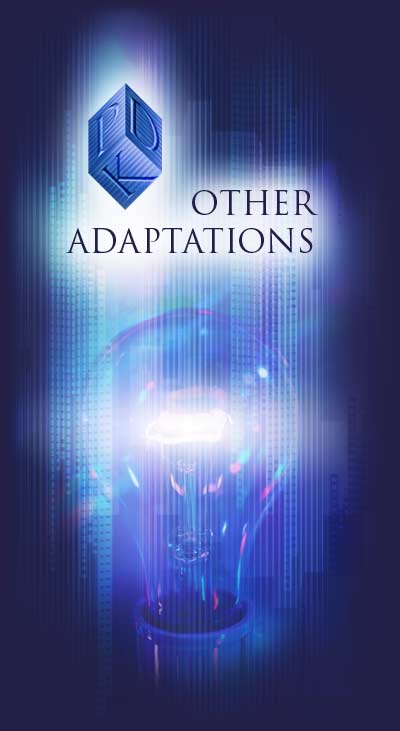 According to the 1981 Philip K. Dick Bibliography compiled by Daniel Levack, (a bibliography that PKD assisted in compiling), the following media adaptations were done, however, copies have not been located to date.
Radio Scripts

PKD wrote three radio scripts which were aired in the mid-fifties on a show narrated by John W. Campbell Jr. on the Mutual Broadcasting System. The precise date that these aired is unknown.



Television

"The Cookie Lady"
half hour show by Metromedia that aired sometime in the 1970's.

"Martian Time Slip"
extended program that aired on the BBC sometime in the 1960's.


If you can be of assistance in locating any of the items listed above, please contact the Trust.



Introduction to Other Adaptations of PKD's works

There have been many artists, other than film-makers, inspired by Philip K. Dick's novels and stories. Here you will find a list, sorted by genre, of their adaptions






Ubik Video Game
Cryo Interactive (1998)
A 3rd-person science fiction mystery by a French video game company based on the novel of the same name
Blade Runner Video Game
Westwood/Electronic Arts (1999)
RPG/Adventure game Based on the movie Blade Runner, which was based on the PKD novel "Do Androids Dream of Electric Sheep?"

Valis Opera
by Tod Machover (premiered in 1987)
Philip K. Dick's Valis as an opera for six voices, hyperkeyboard, hyperpercussion, and live computer electronics. Libretto by Tod Machover, based on a book by Philip K. Dick. Commissioned by Centre Georges Pompidou, Paris to celebrate its 10th anniversary.Premiere: December 2-10, 1987. Musicians and technicians from Ensemble InterContemporain/IRCAM. Tod Machover, conductor.

"Flow My Tears the Policeman Said" Play
by Linda Hartinian (performed by Mabou Mines in 1988)
Interview with Linda Hartinian.

Minority Report and Other Stories (Unabridged)
Read by Keir Dullea
HarperCollins Publishers (2002)
Do Androids Dream of Electric Sheep? (Abridged)
Narrated by Matthew Modine
Warner Adult (1994)
Paycheck (Abridged)
Read by Keir Dullea
HarperAudio (December, 2003)
Galactic Pot Healer (Abridged)
Blackstone Audiobooks (1998)
Martian Time-Slip (Unabridged)
Blackstone Audiobooks (1998)

"Colony"
aired on "X Minus One" (Oct.10, 1956)

"The Defenders"
aired on "X Minus One" (May 22, 1956)


Graphic Novel version - "Do Androids Dream of Electric Sheep?"
BOOM! Comics and Electric Shepherd Productions (2009)
A 24-part graphic novel series released montly preserving intact the exact text of the novel.
Comic version - "The Religious Experience of Philip K. Dick"
by R. Crumb (1986)
An 8-page feature about PKD, originally published in Weirdo #17 in the summer of 1986.